Description
The 5 Stages Cabinet RO Water Purifier is a new design with an automatic flush controller and full coverage. It makes it an excellent addition for families to enjoy clean and pure water from any source. This system includes five filtration stages, each with its function. The 1st stage is a 5.0 micron PP filter, which removes particles like sand, and mud. The 2nd stage is a granular activated carbon filter that removes 99% of chlorine and organic chemicals and enhances the reduction of taste, odour, and colour.
The third stage is a 1.0 micron PP (CTO) filter, providing effective filtration to protect your membrane and improving membrane performance up to 95% of TDS rejection. The fourth stage is an RO membrane that removes hard water contaminants such as lead, copper, barium, chromium, cadmium, fluoride, nitrite, nitrate, and selenium. Finally, the fifth stage is a post-activated carbon filter that removes objectionable tastes and odours, guaranteeing the taste of water with NSF-approved post-carbon.
This system is easy to install, use, and maintain. It comes with a 3.2-gallon pressure tank and can be either a five stages Cabinet RO system or a five stages UF system water purifier, depending on your preference. The UF system has an additional fifth stage of a UF membrane, which can replace the RO membrane.
The customized options available for customers include:
Engraving logos on PP filters.

Exchanging RO membranes with a preferred brand like CSM RO membrane or FIMTEC RO membrane.

Customizing the colour or paint on the machine cover.

Replacing the water tap.

Supplying colourful cartons.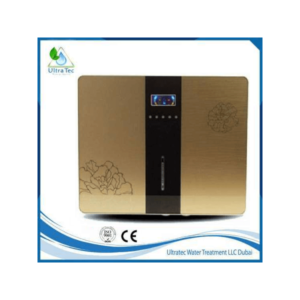 Water filter replacements include the PP filter cartridge to remove dust, iron taste, and mud, a granular activated carbon filter cartridge available with coconut carbon and coal carbon to remove chlorine and bad smells, a block carbon filter cartridge to remove bad tastes further, and a post-carbon filter cartridge to adjust the taste of water. If the machine has a mineral filter, it adds minerals to the water, which can benefit health.