Description
Introduction: 
Ultra Tec is a company that specializes in providing high-quality Alkaline Water Flasks. These flasks are designed to provide users with clean, healthy, and energized drinking water. Our products are made with the best materials and techniques to ensure maximum satisfaction.
Design: 
The Ultra Tec Alkaline Water Flask is made of premium quality stainless steel and has an all-natural stone filter. The filter alkalizes, purifies, and energizes the water, providing a healthy and refreshing drink.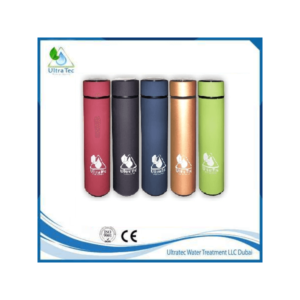 Features:
Alkaline Water:

 

The Alkaline Water Flask provides alkaline water, which helps neutralize acidic substances in the human body. This maintains a healthy pH balance and protects the liver from harm caused by nicotine and alcohol.

Micro-Elements:

 Our all-natural stone filter adds various natural substances to the water, providing necessary micro-elements to improve the growth of every organ in your body.

Energized Water: The Ultra Tec Alkaline Water Flask energizes water with a small molecular cluster structure, making it easier to absorb into body cells. This improves metabolism, brings more nutrients and oxygen to the body, and helps improve overall health.

Purification:

 Our Alkaline Water Flask also effectively removes sand, rust, dirt, and other undissolved matter from your drinking water. It also removes bad taste and odors, leaving you with a refreshing and clean taste.

Variety:

 At Ultra Tec, we offer a wide range of drinkware, including glassware and water bottles, to ensure you stay hydrated and healthy wherever you go.
Conclusion: In conclusion, Ultra Tec Alkaline Water Flask is the perfect way to enjoy clean, healthy, and energized water wherever you are. Our products are of the highest quality, and our all-natural stone filter ensures you get the best out of every sip. So, don't hesitate to contact your hands on our Alkaline Water Flask today and experience the difference in your health and wellness.