Description
Containerized water treatment plants are utterly self-contained water treatment systems within a shipping container. These containerized water treatment plants are easy to transport to any location and require no additional assembly. They are ideal for small to medium-sized businesses that need a reliable and cost-effective water treatment solution.
Containerized Sea Water RO Plants:
Containerized seawater reverse, osmosis plants uses energy recovery systems that consume less energy than conventional SWRO plants. They can be remotely controlled, monitored, and adjusted without daily on-site operators.
Containerized Reverse Osmosis Systems: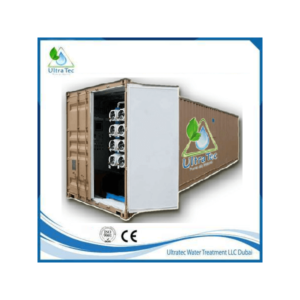 Containerized reverse osmosis systems are longer-term in membrane water treatment. They can produce up to one million gallons of water per day from a single container, with built-in pretreatment and membrane cleaning. These systems are designed to be portable and can be transported to any location where potable water is required.
Water Treatment Plant Containerization:
Ultra Tec supplies any water treatment during a containerized version. These containerized plants are plug-and-play units and require minimal civil work, have a limited footprint, and are easy to transport. They are mobile and useful for construction sites. These containerized water treatment plants include all the equipment, piping, cabling, and wiring required for operation. They can be designed to be air-cooled or insulated to suit extreme weather conditions.